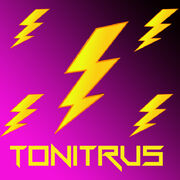 Gabriel
, also known as
LightningD
and
Tonitrus
, is a recruit in
the Elementals
. The Elemental name he chose is Tonitrus, which is Latin for Thunder.
Tonitrus is no longer a part of The Elementals
Introduction To Gaming:
When Gabriel was 8, he got a Nintendo Wii for Christmas with Wii Sports and Super Smash Bros. Brawl. He played Wii Sports a lot with his family and read a lot of books. He didn't take interest in Super Smash Bros. Brawl until he was 10 when he remembered he had it. He went on and ended up playing it a lot. He took an interest to fighting games. Between 2010 and the end of 2011, his brother got a lot of Call of Duty games, and he took an interest to them, although he wasn't very good. Christmas 2011 brought him an IPad 2, so he started playing on that a lot. Early 2012 he noticed his brother had bought a game called Minecraft, so Gabriel played a little. He then researched it online and saw a playthrough by the Yogscast so he started watching that. He played Minecraft a lot on his brother's Xbox then got one for himself on Christmas 2012. The main game he plays is Minecraft, but also plays Skylanders: Spyro's Adventure, and Wii Fit Plus.
Quotes:
"STOP SPAMMING!" (To Umbra in chat)
Trivia
He Plays Minecraft Xbox 360 Edition.
He Has Slight OCD, Which Helps With Grammar And Spelling Mistakes.
His Parents Are Divorced.
Loves Galaxy Chocolate.