Hydro, also known as Thepenguin9 or George is the Founder of the Elementals group. The Elemental name he chose was originally assigned Aqua, which is Latin for water, however after a discussion with Ventus, decided that both the name Aqua and the logo was a bit girly, so George gave himself the name Hydra, which is a mythological Greek monster. However, Ventus wanted the names to stay relatively the same, so he gave him the name Hydro, which is also another Latin word for water. He has an important role as website monitor.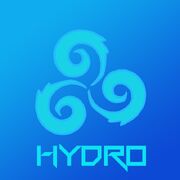 Hydro is no longer a part of The Elementals.
Introduction to gaming :
(He can only remember anything since he was 5) He had a Playstation ever since he could remember, 'nuff said. He moved onto PC gaming in 2009 and alternates between the two. These two are his main platforms.
Quotes:
"DENIED!!!"
"ACCEPTED!!!!"
"You have my sword."
"Come to the Dark Side (We has cookies and milk)"
"Or coffee if your classy."

Trivia: